Applications for Sewing Shoes, Boots, Luggage, Handbags, Bags, Suitcase, Gloves, Handbags, Overalls, Raincoats, Umbrellas, Awnings, Covers, Tarpaulins, Tents, Sports and Camping Equipment, Wearing Apparel, Outdoor Clothing, etc... For sewing medium to heavy weight fabrics, leather, canvas, vinyl, synthetics and various coated and laminated materials, stitching uneven, hollow, tubular and curved articles.

High Post Bed, Compound Feed, Large Rotating Hook, Drop Feed, Needle Feed, Walking Foot, Alternating Presser Feet, Single needle lockstitch
Product Details: Single Needle High Post Bed Compound Feed Heavy Duty Lockstitch Sewing Machine
FOXSEW Super High Post Bed Compound Feed Lockstitch Sewing Machine for Luggage Case, Suitcase, Bags, Hats, and Shoes.
Features: This model is designed with compound feed mechanism and super high post bed. It is subclass into left-side stitching bed (FX-8365) and right-side stitching bed (FX-8366) to meet different sewing requests. With special needle plate it is available for sewing large and cubic articles with small radius, such as boots, handbags, hat, case and bag and so on. And it features easy stitch regulation, easy reverse feeding, smooth sewing and beautiful stitches. For sewing medium to heavy weight fabrics, leather, canvas, vinyl, synthetics and various coated and laminated materials. For stitching uneven, hollow, tubular and curved articles. Designed for stitching such products as boots, shoes, gloves, luggage, handbags, overalls, raincoats, bags, umbrellas, awnings, covers, tarpaulins, tents, sports and camping equipment, wearing apparel, outdoor clothing, etc. Suitable for edge stitching operations, and top stitching
Applications: Sewing Shoes, Boots, Luggage, Handbags, Bags, Suitcase, Gloves, Handbags, Overalls, Raincoats, Umbrellas, Awnings, Covers, Tarpaulins, Tents, Sports and Camping Equipment, Wearing Apparel, Outdoor Clothing, etc...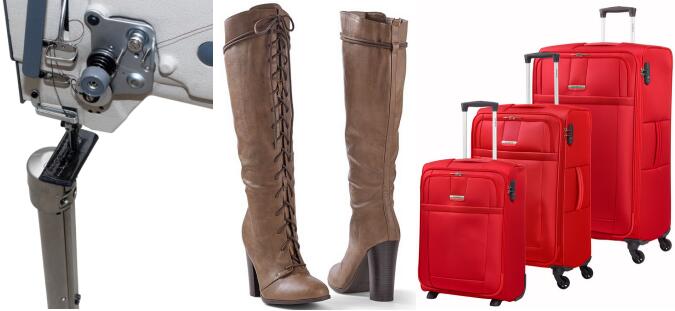 This machine is with semi-automatic lubrication system, Oil fed take-up, Safety clutch prevents the hook from being damaged, Large bobbin allows for longer operation, Large vertical axis hook allows for use of thick thread and therefore ornamental stitching can be obtained, Compound feed, walking foot mechanism assures even feeding of materials, Reverse stitching, Simple adjustment permits raising and lowering of the center foot which allows for sewing different thicknesses of materials.
Specifications:

Model NO.:

FX-8365

FX-8366

Post Bed Position:

Left Side

Right Side

Max. Sewing Speed:

2000r.p.m

Stitch Length:

0-12mm

Needle Bar Stroke:

36mm

Presser Foot Lift:

0-16mm

Needle Type:

DPx17

Weight:

60KGS

Packing Size:

66x37x89CM

Hook:

Large Vertical Hook

Motor:

600W Servo Motor

Operating Sapce:

450x255cm, any other operating space is also available for customized
FOXSEW High Post Bed Compound Feed Heavy Duty Lockstitch Sewing Machine