Foxsew Fully Automatic KN95 Face Mask Machine Production Line FOXSEW FX-KNM-A001
Working Video-1: www.foxsew.com/company-video/fully-automatic-kn95-mask-making-machine-production-line-foxsew-fx-knm-a001-2230.html
Working Video-2: www.chinafoxsew.com/video/11230.html
Working Video-3: www.foxsew.com/company-video/fully-automatic-kn95-mask-production-line-2187.html
Working Video-4: www.chinafoxsew.com/video/11249.html
Working Video-5: www.chinafoxsew.com/video/11161.html
Working Video-6: www.chinafoxsew.com/video/11301.html
Hottest KN95 Mask Making Machine !!!
Most reliable and stable performance wins customers' trust and love, with very good reputation from the market feedback.
As you can see from the Videos, this machine can cut more than 10 layers very easily and neetly.
Compared with normal KN95 maks blank body making machine, there are not in the same LEVEL.
So, we decide to add: 100 Sets new Machines will be well prepared for the World market !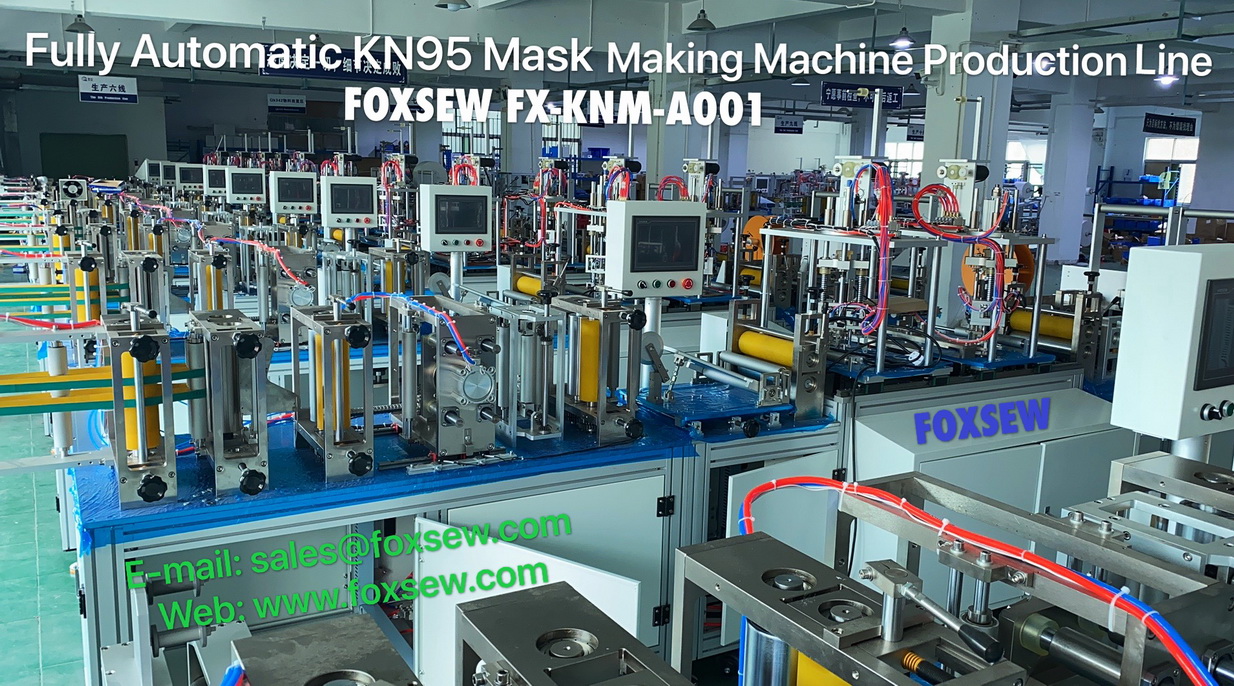 (1): Foxsew Automatic Folding Type KN95 Mask Body Making Machines FOXSEW FX-KNM-A002
(2): FOXSEW Automatic Folding Type KN95 Mask Earloop Welding Machine FOXSEW FX-KNM-A002-AE
The best partner teammate: 1 unit (Body Making Machine) + 1 unit (Earloop Welding Machine) = One Fully Automatic KN95 Mask Production Line.
For more details, please contact us by emails:
Web: www.foxsew.com
Web: www.chinafoxsew.com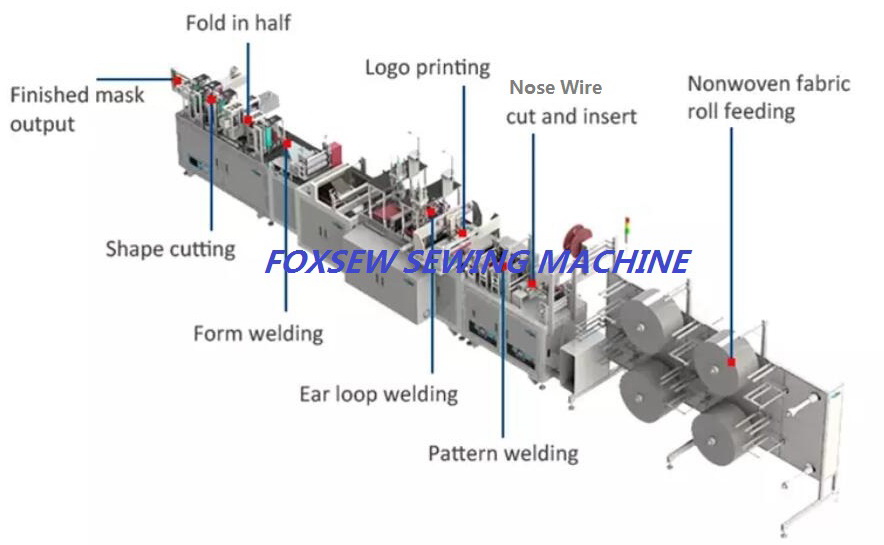 How to make KN95 face mask -- FOXSEW Solutions:
Option (1): FOXSEW FX-KNM-A001 "All-In-One" machine line. One machine is OK.
Option (2): FOXSEW FX-KNM-A002 "Folding and Edge Sealing" KN95 body making machine. One machine + any Earloop welder is OK Option
(3): FOXSEW FX-KNM-A004 "Blank Flat KN95 body making machine". This machine should use "edge sealer" & "earloop welder", both Manual & Automatic are optional.
KN95 mask Total Solution Provider -- CHINA FOXSEW
Web: www.foxsew.com
Web: www.chinafoxsew.com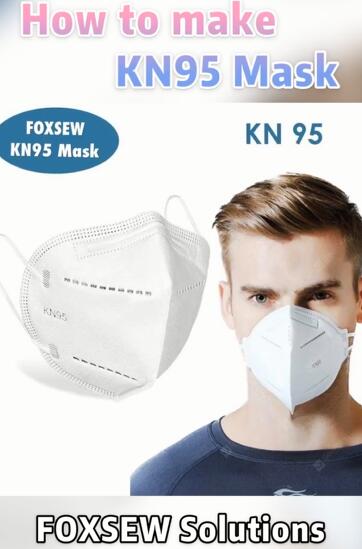 FOXSEW Full-automatic KN95 mask making production line uses the latest ultrasonic welding technology. It has the advantages of advanced technology, reliable, convenient and stable operation. It realizes the entire process of automatic production from cloth feeding to finished masks. One person can operate multiple production line. The production line mainly include automatic loading of coils, automatic feeding of nose bridges, ultrasonic roll welding of mask body shape, pad printing of identification information, welding of ear bands, automatic application of sponge nose pads, automatic folding and welding masks, mold cutting, finished product loading materials, rejection and other processes. The Foxsew KN95 face mask make machine uses PLC, touch screen control, and main conveyor adopts unidirectional motor transmission, which can achieve precise movement, stable control and adjustable speed. Other requirments we can customized accordingly.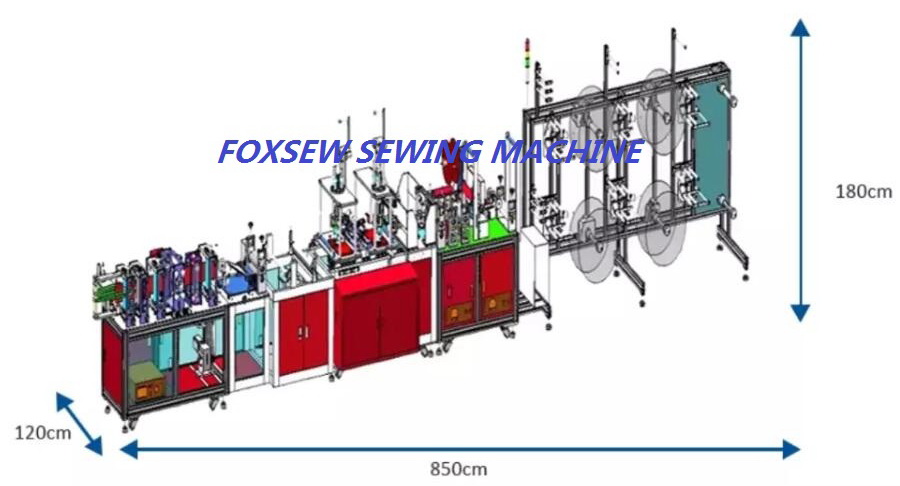 Mainly Structure of FOXSEW KN95 face mask making machine production line:
1. Equipped with Max 6 sets of cloth unwinding,Roll diameter Max 600mm;
The fabric unwinding adopts the active unwinding method, and automatically unwinds according to the position of the tension roller;
2.Nose bar welding module: including nose bar unwinding, nose bar leveling, fixed length conveying, cutting, welding functions;
3.Fabric composite roll welding unit: adopts the welding method of ultrasonic welding head and steel mold, and the parallelism and position of the roller are precisely adjusted during welding.The welding system has cooling function.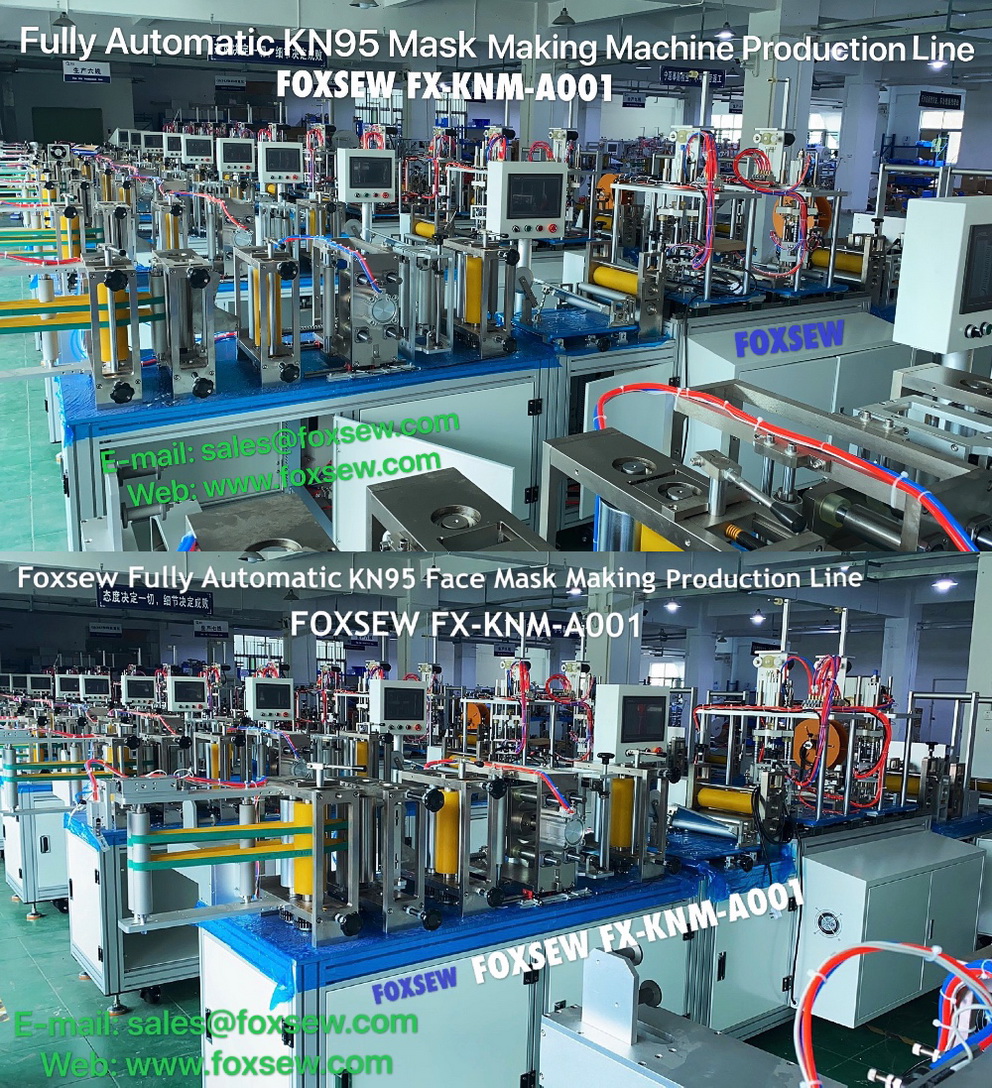 4.Earband welding unit:the earband welding of this equipment adopts the earband type (non-head-mounted), the whole roll is loaded, after driving and tension control, the fixed length is cut, the length of the earband is adjustable, the ultrasonic welding is used, and the welding is firm;
5.The material driving unit adopts a Servo Motor to control the main driving roller to drive the cloth, running smoothly, and the pressure is precisely adjustable.
6.Folding forming unit: adjustable triangle plate, height and angle can be adjusted to ensure that the mask is neutrally folded in half.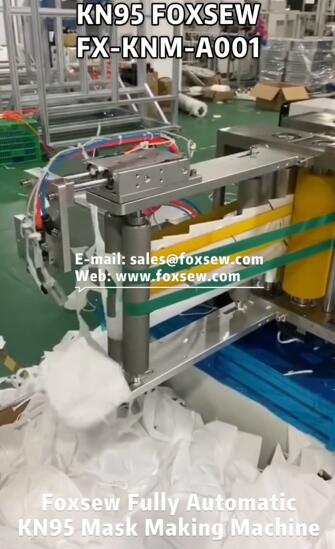 7.Forming welding unit: ultrasonic welding is adopted, the welding is firm, the pattern is clear, the pressure of the welding system is adjustable, the welding system has a cooling device, and the technical parameters of the ultrasonic welding system are adjustable;
8.Forming and cutting unit: rolling cutter wheel, cutter pad wheel, pressure adjustable, cutter material: high speed steel.
9.Waste separation unit, waste automatically falls into the box.
10.Control system: The equipment includes PLC control system and touch screen operating system.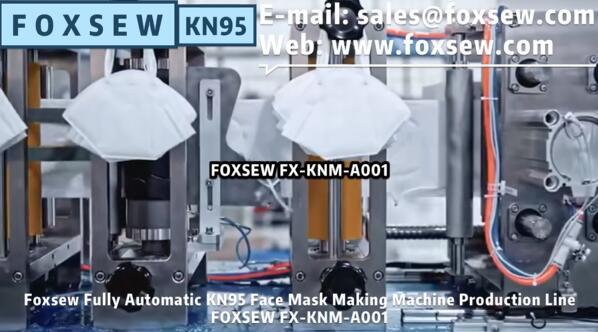 Features of FOXSEW KN95 Face Mask Making Machine Production line:
1. High-speed fully automatic production, low requirements for operating staff, it only needs to place and finish the finished products.
2. Automatic counting, which can effectively control production efficiency and production progress.
3. Ultrasonic welding, high accuracy, good quality, high stability and low failure rate
4. Support up to 6 layers of non-woven roll materials feeding
5. Automatic tension control of raw materials to ensure balanced tension
6. Modular design, which can flexibly increase the function modules of breathing valve assembly, automatic detection, automatic packing etc,humanized design and maintenance convenience.
7. Digital communication control of the whole line, which can realize data collection, analysis, traceability and visual data signage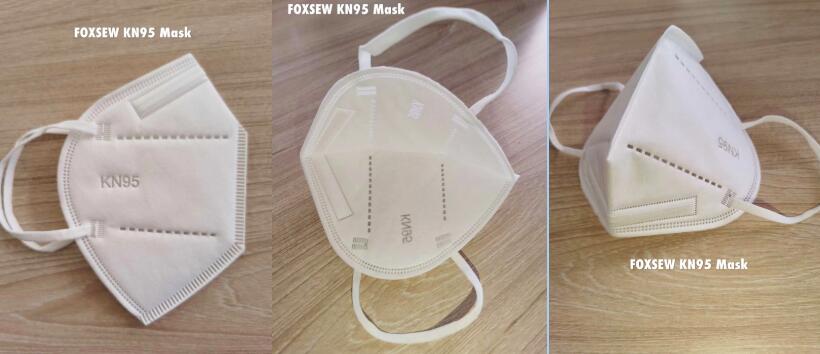 8.Variable frequency control can adjust the running speed of the equipment according to the actual needs.
9. With photoelectric detection to control material imput with minimum errors & no waste
10. Conveying belt for finished products reaches L1200mm (Customized).
11. With Overall &Partial counting system , each lot number for Partial counting can be pre-set
12. Masks with different sizes and models can be produced by changing molds

13. Made of alumi alloy, strong, beautiful and resistant to rust.
14. Production capacity: 30-80 pieces/minute( Adjustable.)
15. General equipment basic configurations for your ref.
(1)Equipment size:9500mm(L)x1500mn(W)x1900mm(H);
(2)Equipment weight: ≤6000kg, ground bearing ≤500KG / ;
(3)Working power source: equipment 220V, 50HZ, rated power about 15KW;
(4)Compressed air: 0.5 ~ 0.7 MPa, the flow rate is about 300L / min;
Environmental conditions:Temperature 10 ~ 35 ºC, humidity 5-35% HR, no flammable, corrosive gas, no dust (cleanness is not less than 100,000).
Looking for ideal Full Automatic N95 Mask Making Machine Manufacturer & supplier ? We have a wide selection at great prices to help you get creative. All the Fully Automatic KN95 Mask Making Machine are quality guaranteed. We are China Origin Factory of Full Automatic N95 Face Mask Machine. If you have any question, please feel free to contact us.