FOXSEW Automatic Button Sewing and Neck Wrapping Machine, Automatic Button Neck Wrapping Sewing Machine.
Computer-Controlled High Speed Electronic Button Attaching Sewing Machine with Button Neck Wrapping Function.
FOXSEW FX-589 is compatible with wide variety of button attaching patterns. This machine can sew flat buttons, shank buttons, marble buttons and counter buttons, with or without neck-wrapping. It can easily be done in the operator mode screen that setting of number of stitches, distance between buttonholes, neck-wrapping height, stay stitches, notting, tucking depth and so on. It takes only one minute to switch between attaching and not attaching counter buttons.It can also easily be switched between V-shape stitching and Standard stitching.

Operation and setting can be made with a large LED touch panel, Attaching counter buttons can be performed in one continuous process, Cycle sewing of shank button and flat buttons can be made, Improved cycle time to bolster productivity, Two useful screen modes.
Newly designed button loader allows continuous loading of both shank and flat buttons together.It enables Foxsew FX-589 to perform cycle sewing of not only different flat buttons but also shank buttons and flat buttons.For example, it allows to perform sewing shank buttons on a jacket's front then sewing flat buttons with neck-wrapping on the inner pocket.
Improved sewing speed of FX-589 shortens the cycle time and increases productivity. Well reputed neck-wrapping quality of FOXSEW series has also been maintained. The neck-wrapping height can be adjusted by up to 10mm.
The operator mode and the maintenance mode can be selected at first.In the operator mode, operators can start sewing promptly after choosing sewing conditions from the touch-screen. After selecting a button type from the screen, number of stitches, distance between buttonholes, neck-wrapping height, stay stitches, notting, tucking depth are displayed automatically. In the maintenance mode, you can set parameters in detail. Parameters set in the maintenance mode can be stored as parameter sets and be reflected to the operator mode so that operators can easily call the parameter setups easily.Both modes have an easy-to-use interface with clear pictgrams for smooth setup.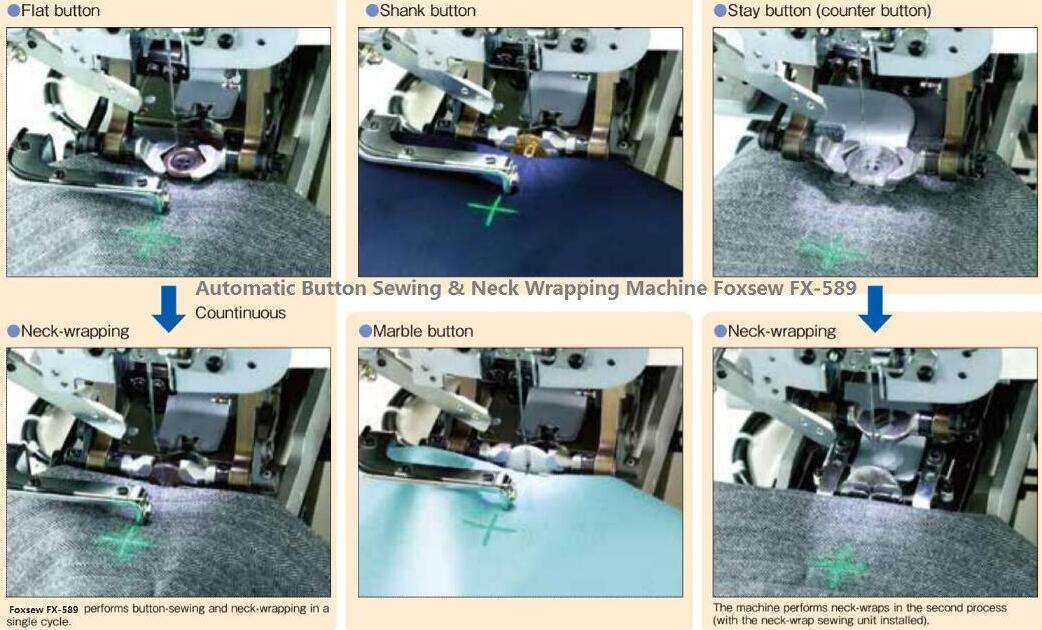 The machine demonstrates the highest productivity among button-neck-wrapping machines intended for men's and ladies' outer wear. A single machine unit permits the quick changeover of types of buttons to be sewn, i.e., flat buttons, shank button, marble buttons and stay buttons with a onetouch utility lever.
Computer-controlled, High-speed, Single-thread Chainstitch, Button-neck-wrapping Machine
Maximum sewing speed: 1,800sti/min (neck-wrapping), 1,200sti/min (button sewing)
Sewing button without neck-wrapping: φ8~φ38mm
Sewing button with neck-wrapping: φ8~φ32mm
Counter button: φ8~φ25mm
Distance between buttonholes: 1.5~6mm (0.1mm step)
Height of neck-wrap: 0, 1.5~10mm
Number of data can be input: Max. 99 patterns
Needle: SM×332EXTLG-NY(#14)#12~#18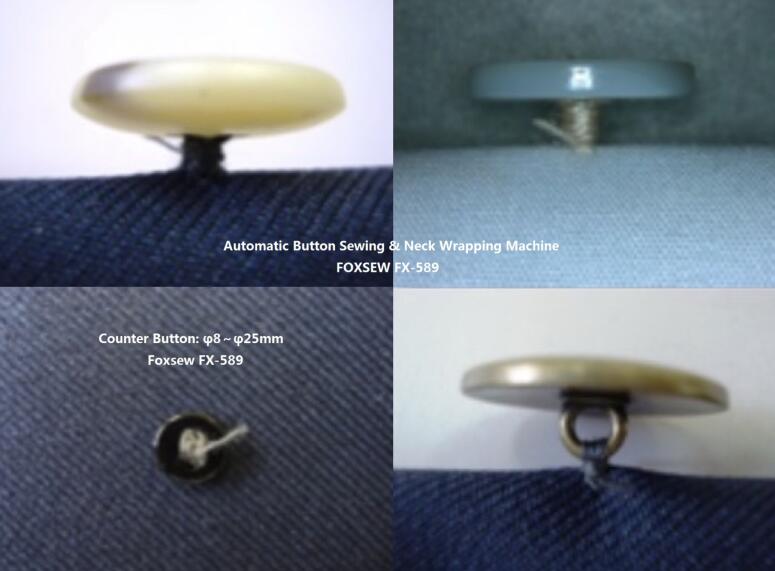 Looking for ideal Automatic Button Wrapping Sewing Machine Manufacturer & supplier ? We have a wide selection at great prices to help you get creative. All the Automatic Button Neck Wrapping Sewing Machine are quality guaranteed. We are China Origin Factory of Button Neck Wrapping and Sewing Machine. If you have any question, please feel free to contact us.