FOXSEW 158 Long Arm Flat Bed Extra Heavy Duty Compound Feed Sewing Machine
FX-158-2 Twin Needle Flat Bed Extra Heavy Duty Triple Feed Sewing machine
Applications: Furniture upholstery, Leather, sofa, Car seat, Cushion, Air bag, Container bags, Wide textile lifting slings & cargo lashing strap, Safety belts and Harness, Sails, Tents, Awnings, Canopies, Military Parachutes, Crane slings, Spray hood, Carpets, Luggage, Industrial safety products, Construction Barriers, Field covers, Divider curtains, Protective clothes etc.
Features: This model is the king size ofextra heavy materials compound feed Lockstitch Sewing Machine of FOXSEW brand,it adopts vertical rotating hook, sliding lever thread take-up. We divide itinto single-needle and double-needles. It adopts Synchronic feeding of needlebar and feed dog. The comprehensive performance of whole machine is so strong,especially includes these aspects: smooth drive train, low noise, largeoperation space, we also installed the clutch device to pretend the rotatinghook from overloading, insure the safety of products and rotating hook.Convenient operation of pedal type reverse-feed, push-button typeneedling-distance regulating mechanism, adopts concealed bobbin winder,equipped with automatic lubrication rotary horizontal hook, it can reduce thefrequency of changing the baseline when sewing thick seaming work piece. It issuitable for leather, artificial leather, Canvas, nylon chemical fibber,synthetic material, rubber and so on which is extra heavy materials, used forsewing sails and tents, cushion, sofa, beach umbrella, truck`s hook etc...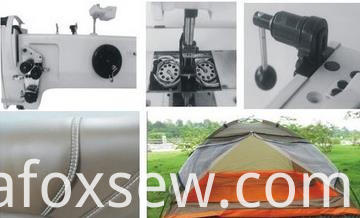 Specifications:
Model

FX-158

FX-158-2

Number of Needle

1

2

Max. Sewing Speed

1200 r.p.m

Stitch Length

0-10 mm

Needle Bar Stroke

46.8 mm

Presser Foot Lift

By hand: 12 mm By Knee: 21.5 mm

Needle type

DD*1 21#28#

Rotating Hook

Horizontal Fall Rotation Extra Large Rotary Hook

Presser Foot Alternation

6-19 mm

Lubrication

Manual Lubrication

Scale

Sliding Lever Type

Needle Gauge

Standard 9.5mm

Operating Needle

600*160 mm

Motor

550W Clutch Motor 1400 r.p.m
Product Categories : Flat Bed Heavy Duty Sewing Machine